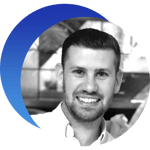 Dan Eckett, SEKO's Client Solutions Group Director UK&I, says:
"The regular reviews and consistent workflow of Pulse ensures we keep our clients as up to date as possible on our progress. Pulse helps us gather regular feedback and NPS scores to act quickly, adding significant value. The Pulse tool has become a key selling point for our tenders or when talking to potential new clients. It shows that we offer our clients the opportunity to give us regular feedback, that we care about what our clients think about us and that we will take immediate action. That's pretty powerful."
ABOUT SEKO
Built on nearly 50 years of logistics expertise, SEKO Logistics is the no-nonsense global end-to-end logistics partner – from factory to consumer. SEKO delivers sustainable client-first service, expert reliability and tech-driven shipping solutions that turn supply chains into a competitive differentiator. With over 150 offices in more than 60 countries, SEKO helps you move at the speed of global commerce.
Related customer stories
Clientshare enables CH&CO to
evidence the value they bring their clients

, which is vital for retention Read story
Telefónica Tech
increased cross-selling by 15%

after using Pulse for 9 months Read story
SEKO Logistics use Pulse as
a key selling point for tenders

and when talking to potential clients Read story