Everytime your client rates a supplier in Clientshare Pulse, we plant a tree. It's a feature inside the product that means your client reviews are green! You can learn more about the 5,000+ trees we've planted here ecologi.com/clientshare.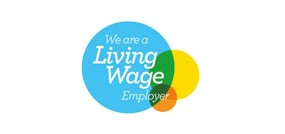 Clientshare is proudly committed to paying a real London Living Wage to all its staff.
Clientshare are also a proud supporter and member of the Living Wage Foundation, support a number of charities including the Salvation Army and we'll only work with suppliers who meet stringent guidelines around modern working practices and sustainability.