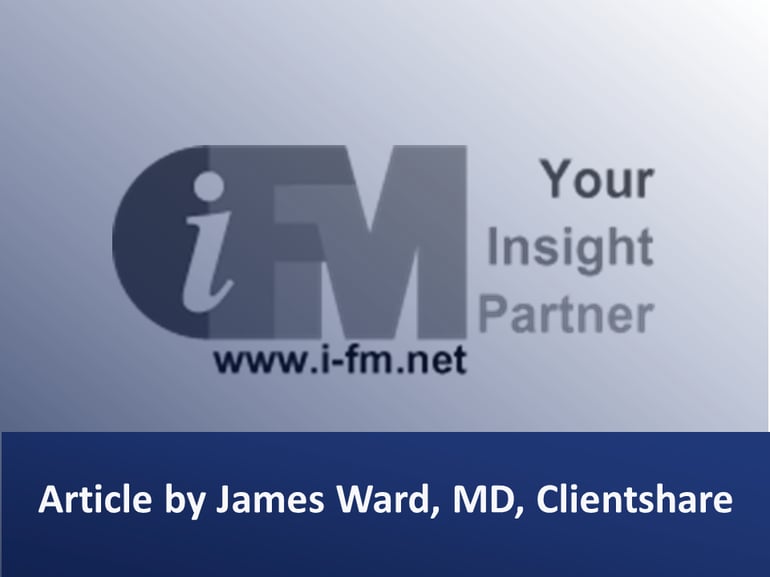 This article was written by Clientshare MD James Ward and published on www.i-fm.net on the 27/11/2019.
https://www.i-fm.net/comment/three-things-fm-outsourcers-should-learn
---
A few years ago, I was fortunate enough to lead the UK Financial and Professional Services outsourcing business for of the world's largest technology companies. We worked with some of the biggest banks, law firms and advisory companies.
It was a fascinating period. Not only were we leading a first generation of outsourcing, but also because it introduced me to a sector that I knew very little about – Facilities Management.
A painful welcome to FM margins
Our customer had previously been IT, but now we had Corporate Real Estate added to the mix. Our services were IT equipment, mailrooms, printrooms, and imaging centres. We moved our clients from inhouse and CAPEX services, to OPEX outsourced managed services and we began TUPE of staff who traditionally worked for facilities inhouse. This was the first time found ourselves outside of IT and working with facilities.
As a technology company we'd been used to margins significantly higher than in facilities – being expected to run services on single digit profit was an anathema, and frankly something we thought was unacceptable. Why? Because we felt our value was more than a few points of margin.
Rather than immediately accepting this, we ran a project to help us understand why FM buyers expected suppliers to operate at such low margins. Coming afresh, it was good to hear from senior FM buyers. The feedback was that FM suppliers were easy to churn, they competed on price, there were plenty to choose from, services weren't seen as high value and tellingly, the relationships were tactical at best, especially post contract signature.
All this meant that procurement could buy aggressively – in fact we perceived it to dangerously close to e-auction territory.
Solving the problem
We set out to make sure that we didn't fall into this painful cycle of constant churn, renewals and scrapping over margin. We knew we couldn't ignore or avoid how FM was bought and managed so we embraced all the good points we saw in FM – and there were plenty. But then we took our learning lessons from IT Services and brought them to the FM market with a clear aim – retain and grow our contracts at good margin.
We focused on x3 areas and brought an IT Services (ITO) mindset to our new FM buyer. Here's how:
1. Real Innovation
Every buyer – supplier relationship talks about innovation. It's almost become a throwaway phrase to the extent many buyer-supplier relationships weren't sure what they actually meant by innovation. In the IT world the first thing we always did at the start of a contract was map out the following with the client:
- What does innovation actually mean for this service?
- What do you want innovation to deliver?
- What types of innovation should we avoid?
- How do we evidence innovation so in 2,3,4,5 years' time, no-one levels the accusation that we aren't delivering
When we approached FM with this model, it was refreshing and delivered results. We proved time and time again that we could deliver innovation in line with an agreed plan but also importantly, didn't over commit, burn budget and didn't bring fantastical promises to the table that no-one could actually deliver on!
2. Proof of Success
At the start of the contract we ran a KPI / SLA review and like most contracts, quickly realised that these metrics only equated to 'doing the basics well'. In ITO, an uptime of 99.999% is expected. There really isn't much scope for failure so the expectation is that whomever the supplier is, they will meet the SLAs. The challenge in ITO is typically not proving you are meeting your contract terms, but instead proving you are doing more! When your customer feels that another supplier could 'do more', yours margins at renewal stage get slashed. We asked FM companies about this and they a big frustration was that time and time again their customer didn't recognise all the value add they brought to the table.
To counter this we used a simple but effective approach that we had honed in IT. Bi weekly or monthly trackers that we're solely about proving where we added value – not just random slides at the back of a quarterly business review, but a tracker that was sent out to all our key stakeholders. Then in the quarterly business review we asked our stakeholders to score each 'added value' item on a 1-10 measure. We knew the stakeholders wouldn't follow and read in detail ever tracker update – but they knew it was there and that it was coming and in doing so they didn't feel the need to justify why they were working with us – they could evidence the great work we doing.
This benefitted both parties when arguing for a higher price. We found FM buyers loved this clear approach as they felt that their existing FM suppliers left the task of demonstrating added value far too late.
3. Leadership Involvement
Ever heard the line: 'we only hear from your management when there is a problem or it's a renewal'. Sickening isn't it, because by the time it has happened it is far too late and you've lost the confidence of your client. This happens a lot in ITO and unsurprisingly we were told it happens in FM, both SME and Enterprise. If companies outsource then they want their pound of flesh, not just from the service team, but also from the leadership of a business. We all know that a MD, VP or CXO can't be at every client meeting and review, but when this relationship is regularly cited as a problem, surely there is a better way?
In ITO we had a clear exec programme whereby a senior leader was appointed to each major account. Then regardless of the month, or events happening in the wider business, we had a 15 minute catch up call with exec. Then each month, without fail, the exec sent a simple but powerful message to all the stakeholders at each client. It was personalized, 1:1 and very simple – pretty much saying that he/she had caught up with the account manager and it then summarized what they had been told about the account and shared x1 piece of thought leadership. It was so simple but unbelievable effective as it ensured that the customer both felt and knew that their supplier was properly engaged in the client relationship.
When we brought this to FM is made a huge difference and at the time of renewal, our exec sponsor was well enough engaged to ask what the 'price to win' needed to be so we didn't have to burn margin vs the competition.
Summary
Gartner will tell you that 53% of your success with down to CX (Customer Experience) not price product or service. We recognized that in ITO and set out to ensure that when we moved into FM we have a world class CX. This was our approach, it worked and FM buyers bought into it. We focused on plenty of areas of CX but the 3 that stood out in FM were:
In fact, it worked so well that a year later I left to create Clientshare in order to create a digital version of this process and we're now helping BPO, ITO and FM account managers retain and grow their contracts.
---
James Ward is MD and Founder of Clientshare. He founded Clientshare to address the problems in buyer – supplier relationships that lead to contract churn and a failure to grow accounts. Headquartered in London, Clientshare helps FM, IT and BPO companies retain and grow contracts. Clientshare works with companies like Interserve, Xerox, Guidant Global and CH&Co helping them analyse contract risk, sell more and grow retention by typically by 18%. The Clientshare software platform is used by Buyers and Suppliers to manage reviews, share management information, build a strategic community and track and demonstrate added value and innovation. For a 1:1 call with our MD email james.ward@myclientshare.com www.myclientshare.com