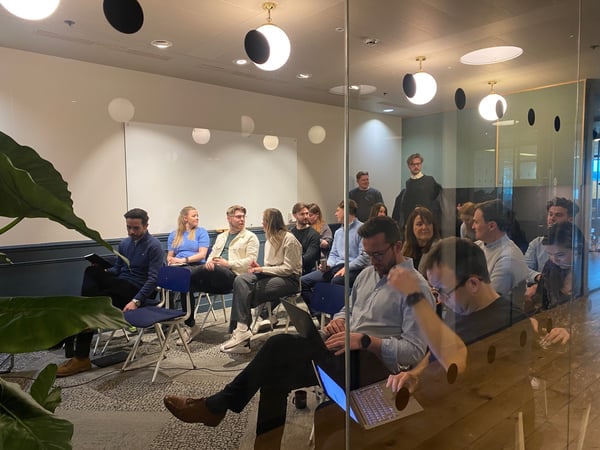 We have had a massive first quarter of the year and are so excited about developments in the coming few months. We are so grateful to our hardworking team and brilliant customers!
Clientshare Pulse is our workflow tool that enables B2B enterprises to deliver high quality and consistent business reviews, NPS and CSAT. Digitising the reviews process gives businesses complete visibility of the health of their client relationships, and the ability to act quickly on feedback and scores to deliver increased retention, growth and efficiency.
Following 70%+ year-on-year growth in FY22, we have delivered rapid growth in Q1 through the continued adoption of Pulse.
Here are just some of our Q1 highlights:
30% growth in Q1 of Clientshare Pulse, the industry leading business reviews tool.

New enterprise contracts with industry leaders in global logistics Expeditors, FM supplier Platinum and a global agreement with Compass Group, the world's leading £25bn contract catering powerhouse.

Follow on investment in FY22-23 from Blackfinch's EIS / VCT fund.

Release of new public facing API allowing clients to pull data such as their CSAT scores, NPS and other feedback straight from Clientshare into their own data warehouse. Clientshare customers will now be able to access their clients' sentiment data alongside their usual CRM data, make informed sales decisions without having to switch between programs and save valuable account manager hours.
"Stopping contract churn is now at the forefront of B2B leaders' minds; losing clients in a tough economic climate can set businesses' growth plans back by years. The leaders we work with in companies like Mitie, Atalian Servest and Impellam recognise that quarterly business reviews are key to success. We're delighted that they are using Clientshare to manage reviews, get CSAT/NPS and client feedback and access health scorecards helping them identify opportunity and manage the risk of churn." -James Ward, Clientshare Managing Director
Q2 promises to be another record quarter with more enterprise businesses turning to us and existing clients expanding their rollout into new geographies. The team continues to expand and we will move into new offices in the City of London to accommodate all those brilliant new faces.
If you'd like to hear a little bit more about our fantastic business reviews workflow tool, then please take a look at our 30 second video on Pulse.
Ready to get started with Pulse? Book a demo with us today.